Mass

Sunday, August 18, 2019 11:30 AM, 4310 Kirk Rd, Austintown, OH 44515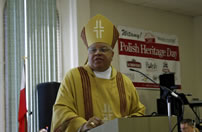 We are pleased to announce that this year's mass will be presided over by Fr. Joseph Rudjak, pastor of Holy Apostles Parish. He also will welcome any of the region's priests to join him on the altar for this special celebration.

This is a modified polka mass with readings and music in English and Polish. Musical accompaniment will be provided by Jimmy K.

Gates for the mass will open to the public at 11AM and all are invited to enjoy the musical prelude prior to mass beginning at 11:30AM.

Volunteers are welcomed to participate in this annual event as
Gift Bearers
Singers
Musicians
Eucharistic Ministers


PLEASE call 330-333-9724 or email info@polishyoungstown.com to volunteer.

Polish Day admission fees DO apply to participate in mass.