Volunteer





Polish Youngstown, Inc.
NEEDS YOU for YOUNGSTOWN'S POLISH HERITAGE DAY!



If you enjoy great Polish food, basket raffles, great fun and really great Polish music, then you need to be a volunteer at POLISH HERITAGE DAY on Sunday, August 18, 2019 at St. Anne's Catholic Church hall and grounds on the corner of South Raccoon and Kirk Roads in Austintown.

The festivities for POLISH DAY 2019 run from 11 AM - 7 PM. As a volunteer, YOU GET TO TAKE PART IN THE LARGEST POLISH CELEBRATION BETWEEN CLEVELAND AND PITTSBURGH, get to enjoy the festival with FREE admission and you even get a FREE T-shirt! .

WE NEED YOUR HELP! Our festival will only happen if you can share some of your time and talents to help set-up, take-down and keep things moving smoothly in between.

Our POLONIA following has increased with each of our activities. With all of the events we have planned for this year, we have a lot of opportunities for eager helpers:

DO YOU LIKE THE GREAT OUTDOORS? How about helping with parking?


AND, IF YOU LOVE TALKING WITH PEOPLE, why not help out with serving and busing tables while talking to some of the nicest people around?


WE LOVE OUR KIDS, AND YOU CAN HAVE A LOT OF FUN WITH THEM; there will be plenty of children's activities.


IF THAT'S NOT "YOUR THING", we can use help setting up before and tearing down after the big event. And there are many, many more things in between!

PLEASE REVIEW the volunteer form that follows and sign up for any of the times and jobs we need to fill. You will not pay to enter; you can spend the entire day with us, if you like. There will be great food, shopping opportunities, and some great dancing to live bands each day!

Not sure what you would like to volunteer for, or what time? Our website has a list of Polish Day Volunteer Opportunities and a form you can use to submit your contact information. Please call me or send me your contact information, and I'll be happy to work with you to find a good fit for your time and talents. I will be in touch with you regarding your FREE ADMISSION TICKET and your volunteering hours and jobs. Dziekuje!!

Volunteer Coordinator
330-333-9724
info@polishyoungstown.org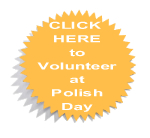 Polish Youngstown, Inc. is a 501(c)3 Nonprofit Corporation.